New collaborative storymap:
Fire in the Western U.S.
Big fires. Big challenges. Big need for regional learning & action.
Storymap // LANDFIRE Office hours presentation of storymap.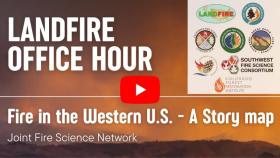 Announcements
WELCOME TO OUR NEW WEBSITE! We are glad you are here. Please take a look around and let us know if something is not working properly.